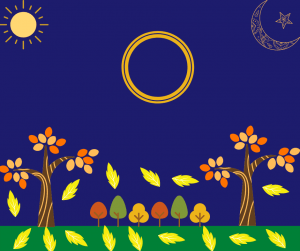 This picture I created was inspired by what is going on in my life. It represents a few things- the fall season where I live, the book I'm reading, "The Lord of the Rings", and some of my favorite things.
The fall season is here in the U.S.A. where I live, and the trees with their colorful leaves in the picture represent that. I also made parts of this picture to represent the book I'm reading, "The Lord of the Rings". In the first book, (which I have already read), the characters go through a forest called Lothlorien, or Lorien. In the book, this forest is what you would call "enchanted", and is inhabited by elves. The forest had golden leaves, which is why I made the falling leaves in my picture golden. The ring above the trees, in the middle of the picture, represents the one powerful, problem causing ring from "The Lord of the Rings", hence where the book gets its name. You will have to read the books to find out more about the ring and the forest! Lastly, the sun and moon in this picture represent space, one of my favorite things, and the changes happening there because of the new season, such as equinoxes, and moon phases. I added a navy blue background to make the objects pop.
I used the website Canva to create this image.